1,3-dibromo-5,5-dimethylhydantoin (DBDMH)

Chemical name: 1,3-dibromo-5,5-dimethylhydantoin(DBDMH)
CAS NO: 77-48-5
Molecular formula: C5H6Br2N2O2

Related Molecular mass: 285.94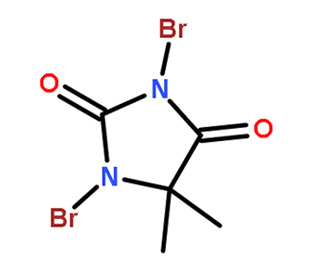 Structural formula:
Properties: white or off-white crystalline powder, slightly dissdved in water,dissolved in chloroform,ethanol and other organic solvent,easy to decompose in strong acid or alkali,stable when in dry state. having slight rritation odour.
Uses: mainly used in the disinfection of industrial circulating water, swimming pool, spring, hospital sewage, medicinal facilities, aquaculture, food process, hotel, home, warehouse, custom and epidemic-stricken area; or used as brominating agent in chemical industry, pharmaceutical industry, rubber industry, and so on.
Quality index(company standard):
Item

Index

Top-grade

Qualified product

Mass fraction of DBDMH, % ≥

98.0

97.0

Mass fraction of bromine(as Br2 ), % ≥

54.79

54.0

Chloride(as Cl ), % ≤

0.080

-

Volatile matter(Loss on dry), % ≤

0.50

0.80
Packing: 40KG in double-layer plastic bag lined carton or following your demands, It should be kept in cool and dry place, don't mix with toxic matter, avoid contamination.