1-Bromo-3-Chloro-5,5-Dimethylhydantoin (BCDMH)

Chemical name: 1-Bromo-3-Chloro-5,5-Dimethylhydantoin(BCDMH)
CAS NO. : 16079-88-2
Molecular formula: C5H6BrCLN2O2
Structural formula: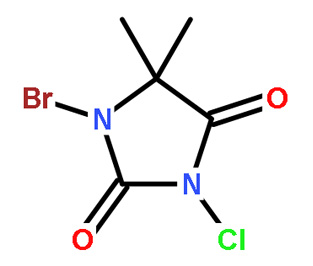 Molecular weight: 241.5
Properties:white or off-white crystalline powder, slightly dissolved in water,dissolved in chloroform,ethanol and other organic solvent,easy to decompose in strong acid or alkali,stable in dry state. Having slight irritation odour.
Packing: 40KG in double-layer plastic bag lined carton or following your demands, It should be kept in cool and dry place, don't mix with toxic matter, avoid contamination.
Uses: mainly used in the disinfection of industrial circulating water, swimming pool, oil field water, spring, hospital sewage, medicinal facilities, aquaculture, food process, hotel, home, warehouse, custom and epidemic-stricken area;
Quality index(company standard):
| | |
| --- | --- |
| Item | Technical requirements |
| Assay% | ≥98.0 |
| Available Bromine% | 62.0~70.0 |
| Available Chlorine% | 26.0~34.0 |
| Weight loss after drying% | ≤0.50 |
Type of commodities
Tablets:20G/Tablet, 80G/Tablet
granule: irregular granule from 8mesh to 30mesh powder
Packing: This product is sealed in paper-plastic multiple bag with lining of two PE bags,net weight:25Kg,flake product packaged in 25Kg paper sheet barrel with PE bag lining.This product should be stored in shady dry environment and forbidden to be stored with poisonous or harmful material,preventing from pollution.